Summer and Sun at the Unterguggenberg Farm
Surrounded by vast meadows and forests, the Unterguggenberg Farm is located in a quiet and sunny area, where you will enjoy summer to its fullest. Our farm is a scenic vacation destination year round, it's the ideal starting point for relaxed walks, hikes and mountaineering!
Beautiful summer days are best spent in the Unterguggenberg Farm garden, where you will find a trampoline, a slide, two swings, table tennis, table soccer and our vintage kitchen stove to barbecue on.
The mountain pasture and hiking paradise Gsieser Valley
Vast and peaceful is this area with its gently rolling meadows and fields, ancient farmhouses nestled in-between. Nature is still untouched in this quaint valley between the natural preserve Rieserferner-Ahrn and the Defregger Alps. The mountainsides are tightly covered with pine forests, further up you will see the alp huts where livestock farming is still practiced the traditional way.
The Kneipp Pyramid Path "Rudlbach"
The
Kneipp Pyramid Path "Rudlbach"
 in Taisten was built with the motto
"naturally healthy"
in mind and its various stations contribute to
reflection and relaxation.
Starting out at the Tourism Office Taisten, you follow marker No. 55 on the right in the direction of "Wiesen", still following marker No. 55, you take a left right after crossing the "Rudlbach" bridge in the direction "Schindelholz" up to the signpost "Pyramidenkneippweg Rudlbach". While following this trail and after passing the archway "Kneippweg Rudlbach", you will see the Leonardo Bridge, a bridge built without the use of nails, ropes or glue. Following the trail up a wooden staircase, you will arrive at the Rudlbach with its small waterfall, here you can begin to "Kneipp".
"Kneipp treatments provide for a long and healthy life!"
(Kneipp philosophy mission statement)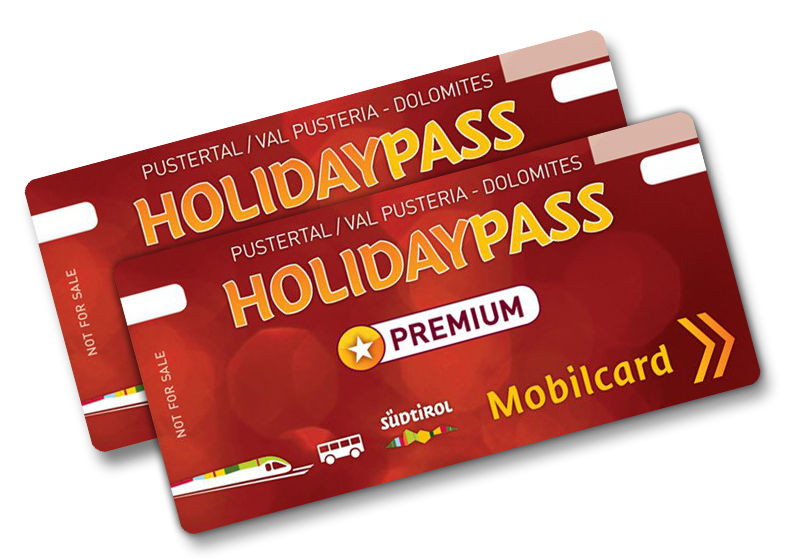 Being a member of the tourism organization enables us to provide our guests with the HOLIDAYPASS Premium free of charge. The HOLIDAYPASS Premium includes the free use of all public South Tyrolean transport: city buses, ski buses, regional trains and some ski lifts (Rio Pusteria–Maranza/Mühlbach–Meransen, Bolzano–Renon/Bozen–Ritten). It also includes a colorful weekly program as well as discounts on numerous services.